Please read this before joining the class…
We are happy that the class is growing every week. Participants seem to have found a place to connect themselves with other art lovers, relax their mind and immerse themselves in the painting class.
Critiques – If you would like Danny to take a look at the best shot of you practice, please email to info@chensgallery.com and attached the image to us. Please either sign your work or leave some remarks on your work. We will keep your work anonymous and critique your practice painting during the lesson, So you need to be able to identify your own work when we are giving out critique.
For better user experience
Start video Since we do not meet each other in person in the classroom, it may feel better if we can see each other in the meeting. All of the participants in the lesson are my former/current students, or friends of friends, so no one is a stranger to me. Turning on "start video" is preferred for me as a better way to "connect" through a virtual classroom.


–Profile picture If you prefer to "stop video" for privacy reason, I would encourage you to add a profile picture of yourself so we can still see you "in real person". Instructions on how to add a profile picture is here: https://support.zoom.us/hc/en-us/articles/201363203-Customizing-your-Profile Don't worry if you are not able to add profile picture or show video of yourself, it is not mandatory. We just want to ensure everyone can get the best learning experience out of the limited resources we have at this time.
Real name Please use your real name /registered name as your profile name
Please mute during the demo – We will mute everyone after the demo starts, unmute everyone during casual chatting or Q&A session. You may "mute" yourself after talking or asking questions.
If you don't have the exact color Danny is using, most likely it is OK. If you run out of art materials like paper or brushes and need help getting it, you may email info@chensgallery.com for consultation or order it through our onlne store.
Last but not least – Please stay home and enjoy yourself in the class!
Watercolor
We recommend you buy artist grade paints (not 'student' or 'academic') in 15 or 37 ml tubes. Artist colors have more pigment and better quality. Make sure to buy transparent watercolor paint, not gouache. For convenient you may also get good quality watercolor traveler set of 24 colors.
Indigo
Cad Yellow Light
Lemon Yellow
Magenta
Alizarin crimson
Burnt Sienna
Burnt Umber
Cerulean blue
Cobalt blue
Ultramarine blue
Phthalo Green
Sap green
Yellow Ochre
Cad orange
Payne's Grey/Neutral Tint

Paper
Most watercolor painters find that a good quality 140 lb cold press finish watercolor paper meets most needs. You can get this in a convenient watercolor pad that will help organize your work
Cold Press (Minimum 140lbs/300gsm) 
9″ x 12″ or no bigger than 11″ x 14″
MDF board to support he paper if you do not have watercolor pad

Brush 
You can paint using only three brushes, but these must be watercolor brushes. Sable is best, golden taklon also works well and costs less. Don't buy brushes that are too small. We recommend these basic brushes 

Round 2-16, pick 3-5 different sizes
Flat 2-16, pick 2-4 different sizes

Others
HB/2B Pencil
Kneadable Eraser
Masking tape 3/4″
Masking fluid

ADDITIONAL TOOLS 
Some basic tools to get you started: 
 Watercolor palette for mixing colors: white ceremic tray  or several small, white dishes, or a good quality closeable artists palette
 HB, 2B sketching pencil 
 Kneaded rubber eraser 
 Plastic water containers (2). Not glass! Cottage cheese or yogurt containers are excellent. 
 Roll of paper towels.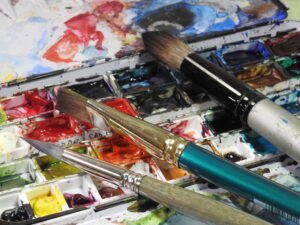 Chinese brush painting

Colour
Indigo
Cad Yellow Light
Lemon Yellow
Magenta
Alizarin Crimson
Burnt Sienna
Chinese White
Chinese Ink
Shinhan Poster Color
White
Permanent Yellow
Yellow Orange

Paper & Brush
White Cloud small
Vine Brush
Orchid & Bamboo
Paper
Xuan paper (single OR double)
Sized Xuan paper
Others
Blanket, water bucket , paper towel,